Alright, yesterday I promised I would get started on my list of things I need for Baby X, and it's not complete, but here's what I have so far on the "gotta get it" list:
1. I really want the Fisher-Price Deluxe Rock n' Play Lightweight Plush Sleeper
for next to our bed because it is light, small, and I have heard it works wonders on fussy babies. It also seems perfect for traveling, which we do a lot of to see grandparents.
2. A Diaper Sprayer
. Seriously, I have no idea how I made it through the scary little-baby poop without this thing. NEED it.
3. I think I want the Itzbeen
. I had it on my registry the first time around, but I'm pretty sure I'll be even more exhausted and brain-dead this time, so I'm thinking this might be a good idea. Anyone have one and love it or hate it?
4. Real white-noise machines
instead of a huge box fan to magically make my baby sleep. Does anyone have recommendations for me?
5. Blackout drapes. Please, please, please, Jeremy? I am SO sick of big dark blankets taped to the wall (now you know my secret shame). To be fair to Jeremy, I didn't really want to buy any before either, since I have always had in my head that this home is "temporary," so why buy drapes to fit these windows? Sigh.
I don't have a picture or a link, because no matter where I search -- amazon, babies r us, etc. -- they all have a crazy range of reviews. Half of the reviews say a certain brand is the greatest thing ever, and the other half say they block zero light and are worthless. Seriously, all the reviews for ALL the blackout curtains are like this. What's a gal to do? Any suggestions?
6. More hooded towels
. I swear, we have these, but we are always out at bathtime!
7. Some REAL swaddle blankets. This baby is not going to kick her way out and refuse to be swaddled past the ripe old age of three days old. No ma'am.
And then there's projects. OH, the PROJECTS I want to complete! I can't wait for that nesting energy to kick in, because I am BEAT lately, and have so many things I could be doing! Baby X even has her own board on Pinterest so I can collect ideas. Here are just a few of the things I would love to get accomplished before Baby X arrives: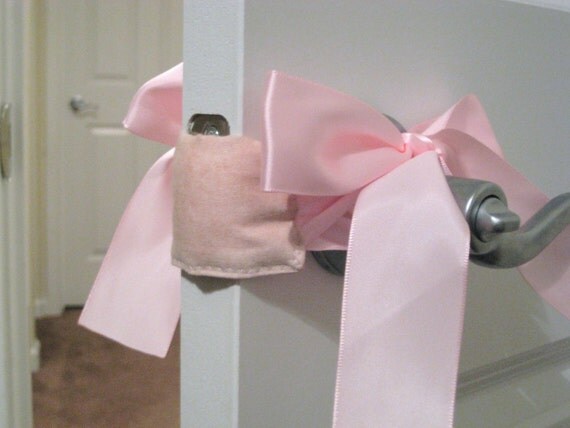 1. A door muff, to keep it nice and quiet when you go in and out of a sleeping baby's room. I would like to make one for both my girls' rooms, especially because we have terrible, old, noisy doors.
2. A 2-in-1 diaper bag that goes from messenger bag to stroller bag. I love this blogger, and she has great instructions!
3. A car seat canopy -- so much smarter than just throwing a blanket on top and hoping it doesn't fly off!
5. And I really wish I had this travel chair when Josie was little. Heck, I could still use one for her now, to keep the crazy kid strapped down when there is no highchair to be found!
6. I know this might sound ridiculous, but I'm having a hard time with the idea of possibly taking the glider out of Josie's room and moving it into Baby X's room, because, well ... she's still kind of my baby, too, and at this point we still use it for her. SO, I am thinking about keeping a lookout for a super-cheap used glider and
recovering the cushions
!
One of my blogger friends already did it, and if I can get a chair for cheap enough, it would totally be worth it!
7. I will probably try to make a swaddle blanket or two of my own and see how those work out before buying any, but you never really know.
8. I'm also going to make a nursing cover (but I don't plan on hanging it from a tree ...). There were only about a handful of times that I REALLY wished I had one with Josephine, but I think this time, with my "helpful" older child around all the time, keeping the baby out of sight while she's eating might be for the best!
9. And, of course, I'll have to make a special blanket for this baby like the one I made for Josephine!
Then, of course, are all the things I WISH I could make, but would have to learn how to crochet. Why do I keep pinning projects if I can't crochet?!?!!
(Starting top left)
pink booties
,
turkey hat
,
mary jane booties
,
very hungry caterpillar
,
and
Converse booties
Well, that's it. Not much, right? :)
Seriously, though, PLEASE add to the list. If there is something you couldn't live without, leave a comment. Or, if you haven't done it yet but wonder if something is useful or useless, leave a comment. Let's get a good baby product conversation going, and maybe I will do another post with everyone's top picks and questions!